Need Installation OR Customization Services? Hire Us !!!
Don't have time to customize our theme, need someone to do it faster, or you need some specific functionality? HIRE US! Simply drop us an Email: stars.joomla@gmail.com or join Skype: [email protected] and our expert team will get right on the job!
Introduction
Ariana is Responsive Digital Agency Joomla Theme fresh and clean Design. It makes for corporate/business websites, creative agencies and other businesses. It looks perfect on all major browsers, tablets and phones.
Updated Version History
 Version 1.2   Date: 22 July 2017 ================================== -  Updated Joomla to 3.7.3 version -  Updated SP Page Builder PRO to latest version -  Updated Helix Template to 2.1 version  Version 1.1   Date: 5 May 2017 ================================== -  Update Joomla version to 3.7 -  Update Page Builder version to 2.4.2 -  Update Helix3 Template to version 2.0 -  Update Akeeba Backup to last version  Version 1.0  Date : 11 February 2017 ================================== Initial Release
Change Log History
 =========================================== Change Log for ariana v2  Date 05-05-2017 ===========================================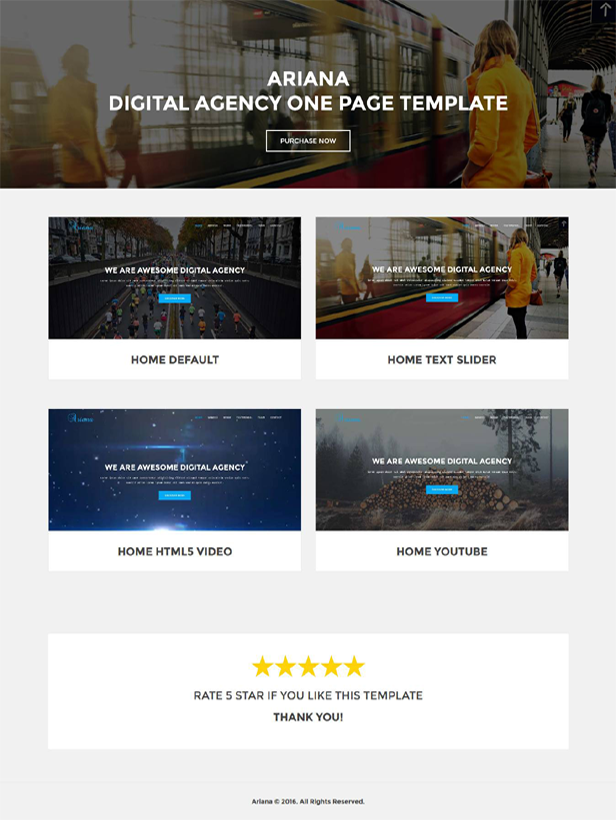 Ariana Features
– Drag & Drop Joomla! Page Builder 2+ (latest PRO version)
– Layer Slider (latest PRO version)
– Based on Helix3 Framework
– Quick install included!
– Import : theme's settings, every page to be imported in builder, layer sliders (if you don't want to use quick install as demo, you can install one by one and just import what you need)
– Images from demo are not included in our pack.
– Well formatted and commented, so it should be easy to adapt and extend
– Quick Start & Well documented
– Free Support from Skype 24 * 7
Please Check Gsrthemes9 Portfolio for HTML Templates
Ariana Customer's Reviews And Comments
View Our All Themes in Themeforest
Other information
Note: The images you see in the screenshots are used for demo purposes only, they are not included in the download package, the original ones are replaces with placeholders.
Thank you very much.
Don't forget to Check Our Best Joomla Themes
Don't Forget to Check Our Featured Themes